Hospitality Industry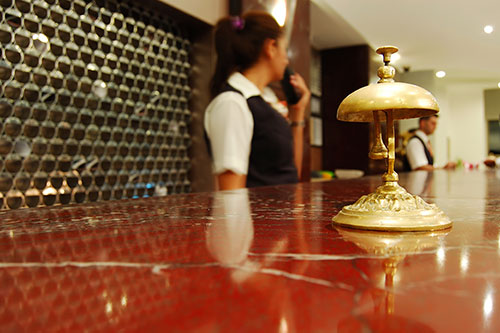 If you are in the hospitality business, this is the safety manual for you. It starts with our Standard OSHA Safety Manual (490 pages) which covers the minimum OSHA standards for nearly all industries. If you have a specific safety topic that applies to your business, all you need to do is review the list of add-on chapters and add each necessary chapter. If for some reason you don't find the chapter you need listed, give us a call and we can write a custom chapter to meet your needs.
Just think, you can Personalize your Safety Manual specifically for your company, Print and Download – in just minutes!
Questions or Concerns? Give us a call toll free at

800-347-1119
Our downloadable OSHA Safety Manuals come with easy to follow instructions that walk you through the entire personalization process, including how to insert your company name throughout the manual body and on the header of each page as well. There are a total of 16 separate variables that allows you to fully personalize your OSHA Safety Manual.
Your Company Safety Manual will be available immediately after your purchase using our Secure Client Center 24/7.
Pro Series – Printed Manual
Not in a hurry? Step up to our "Pro Series" and let us do all the work for you. Our Pro Series Safety Manuals are custom, made to order, based on the information you supply us in the customization questionnaire. They are customized, company specific, safety manuals that include step by step Safety Training Programs and Safety Forms.  They come in a sturdy three ring binder that makes any editing and updating a breeze. All Pro Series Safety Manuals include a digital copy in Word and PDF format along with your hard copy.
Our Pro Series A2 Safety Manual comes with double sided printing in black and white and is available with optional "Numbered Index Chapter Tabs" for quick and easy reference. There is also an option for adding your company logo.
If you are looking to set yourself apart from your competition, then our Pro Series A1 Safety Manual will do just that. It comes with a full color cover that includes your Company Logo and up to four photos of your business in color. It also includes "Numbered Index Chapter Tabs" for quick and easy reference.
Since 1991 OSHA Safety Manual has worked with thousands of companies both large and small helping them meet today's tougher and more demanding workplace safety requirements and regulations–Saving Them Time and Money.
We can do the same for you!
Questions or Concerns? Give us a call toll free at

800-347-1119
Subscription Service
We also offer a One Year Subscription Service that ensures that you stay updated on all the new OSHA regulations and changes within your OSHA compliant Injury, Illness and Prevention Program (your safety manual), as they happen throughout the year. The updates will be provided in digital format and emailed to you. A reprint hard copy of your OSHA Safety Manual is available at an additional cost. Please speak to one of our customer support specialists for pricing and additional information.
Need help with ISNetWorld® or other Third Party Compliance Companies? Learn how we can help you meet these requirements quickly and effectively.
Give us a call, we are here to help

800-347-1119